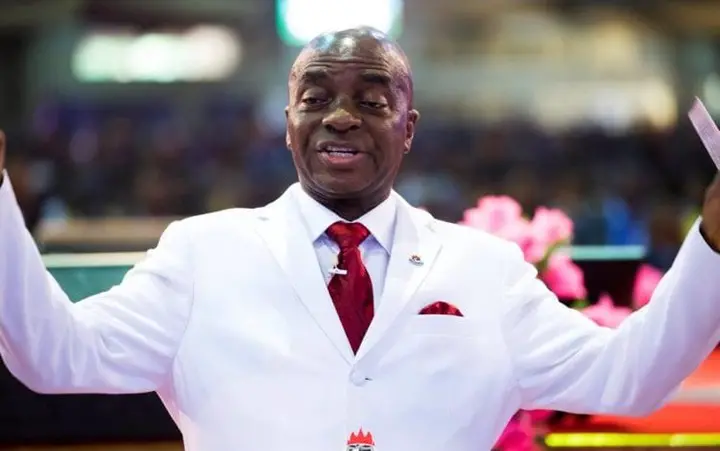 The Presiding Bishop of Living Faith Ministries, Dr David Oyedepo has endorsed the ongoing #EndSARS protests in the country.
Bishop Oyedepo, during a sermon on Sunday morning, stated that the Nigerian Youths have the right to express their displeasure on the current state of affairs in the country. He added that he had been silent on the issue so far because he warned Nigerians in 2015.
"Every Man has a right, legitimately so, to express their displeasure and pains" he said.
"I kept quiet for a while because in 2015 I warned this nation, vehemently, consistently, because I saw the dangers ahead and you can tell. The most gruesome season in the history of the nation is the last 5 years where lives have no value, wanton killings here and there."
"Now they have faced the youths and because they don't know who is next, they have the right to say 'enough is enough'. Any system that has no value for human lives is irrelevant. If they were killed when they were youths, would they be where they are today?".
"It would be a sacrilege to shoot the protesters who are not looting, who are not ravaging".
Over the last two weeks, an outpouring of support for Nigerian protesters has played out on Twitter, with various hashtags, but predominantly #EndSARS. SARS stands for the Special Anti-Robbery Squad.
Accusations of SARS officers robbing, attacking and even killing people go back years but a new wave of protest started at the beginning of October.
A tweet by someone with just 800 followers received more than 10,000 retweets:

The Tweeter, who calls himself Chinyelugo, told the BBC that he normally keeps a low profile on Twitter but that he personally had been harassed by the police previously so when a friend told him about what appeared to be another attack by police he felt the need to tweet it.
"If SARS see you as a young person who is successful with a nice car, they will harass you and extort money from you," he explained.
He later tweeted video of what he said was the young man shot by police.
The video appeared to be from an Instagram story post from an account by someone who was profiled as Azakaza Sarah – a brand ambassador.
The BBC's Nduka Orjinmo says the real energy was injected on Wednesday 7 October, four days after the tweet about the man being shot, when Rinu Oduala, a woman who described herself as a media strategist, persuaded other protesters to spend the night outside government house in Lagos.
Meanwhile, in continuation with the End SARS protest, more youths came out in their numbers on Saturday to join the call for an end to police brutality as Prayer walks were held across the nation.
Comments
Comments