(God's Four Sore Judgments: Part 8 of 8)
How may these judgments be averted?  How were they adverted in the Bible?  They were often averted or terminated through repentance; whole hearted repentance as different from ceremonial confessions from the lips.  In Jeremiah 14:19-20, the prophet prays to the Lord about his land.  Even though the calamity was to descend in the following chapter, at least the prophet gives us a pattern of what to do:

19 Hast thou utterly rejected Judah? Hath thy soul loathed Zion? Why hast thou smitten us, and there is no healing for us? We looked for peace, and there is no good; and for the time of healing, and behold trouble!

20 We acknowledge, O LORD, our wickedness, and iniquity of our fathers [sins of the ancestors]: for we [in the present as well as they in the past] have sinned against thee.

We find in Jeremiah 15:4-6 that God pronounces judgment upon the land not only because of its present sins but also because of the wickedness of a previous ruler of about 75 years ago: Manasseh.  The present sins had not only been bad enough, they had also opened up the files of ancestral sins.  Now God was going to demand payment for all their debts – both the ones they were owing, and those of their fathers.

God will not demand the debts of our fathers if we were in no position pay, through repentance, using the collective pronoun "we" and "our" in the prayer of repentance, as Jeremiah did.

Again and again, we read in Judges that "when the children of Israel cried unto the LORD" in repentance, and usually because of the sufferings resulting from the judgments their sins had brought upon them, God sent them deliverance (Judges 3:14-15; 4:3-4; 6:6-14).  By chapter 10:9-16, they had sinned, been punished, repented, and fallen back so frequently into sin that God was no more going to take them seriously.  Yet when He saw their practical penitence, "his soul was grieved for the misery of Israel" and He delivered them again (Judges 10:16).

One other example of repentance in Scripture, which moved God, and has never ceased to baffle me, is that of King Ahab who is reported in several accounts to have been the most wicked ruler in Israel, one of the worst kings that ever happened to Israel.  Yet even this 'record sinner' moved God's tender heart when, in response to God's fierce pronouncements against him, he "fasted, and lay in sackcloth, and went softly" (1 Kings 21:27).  If God could be entreated even for Ahab, then the sinner does not yet exist whom God cannot forgive.  If  would listened to Ahab, then God will certainly listen to you, and me, and the whole nation, and he Church, if we would but humble ourselves, pray, seek His face, and turn from our wicked way (2 Chronicles 7:14).  Amen.
From The Preacher's diary, 
October 9, 1994.
Revised: May 26, 2018

Thanks for staying 'connected' up till now with this series on "God's Four Sore Judgments." We shall be glad to hear your feedback as well as specific commitments to prayer that you will be able to invest for the welfare of your nation, your community.
Should you also wish to support these endeavors, kindly note the bank details as follows:
* Diamond Bank – 0000-788-064
* Union Bank – 0029-739-366
* Preacher UK Account: Bank Details: Name of Account: The Preacher UK Bank: Barclays Sort code: 20 44 91 Account No: 23974367 IBAN Gb33 BARC20449123 974367
God bless you
***UPCOMING EVENT THIS JUNE (4th)***
***UPCOMING EVENT THIS JUNE (15th-17th)***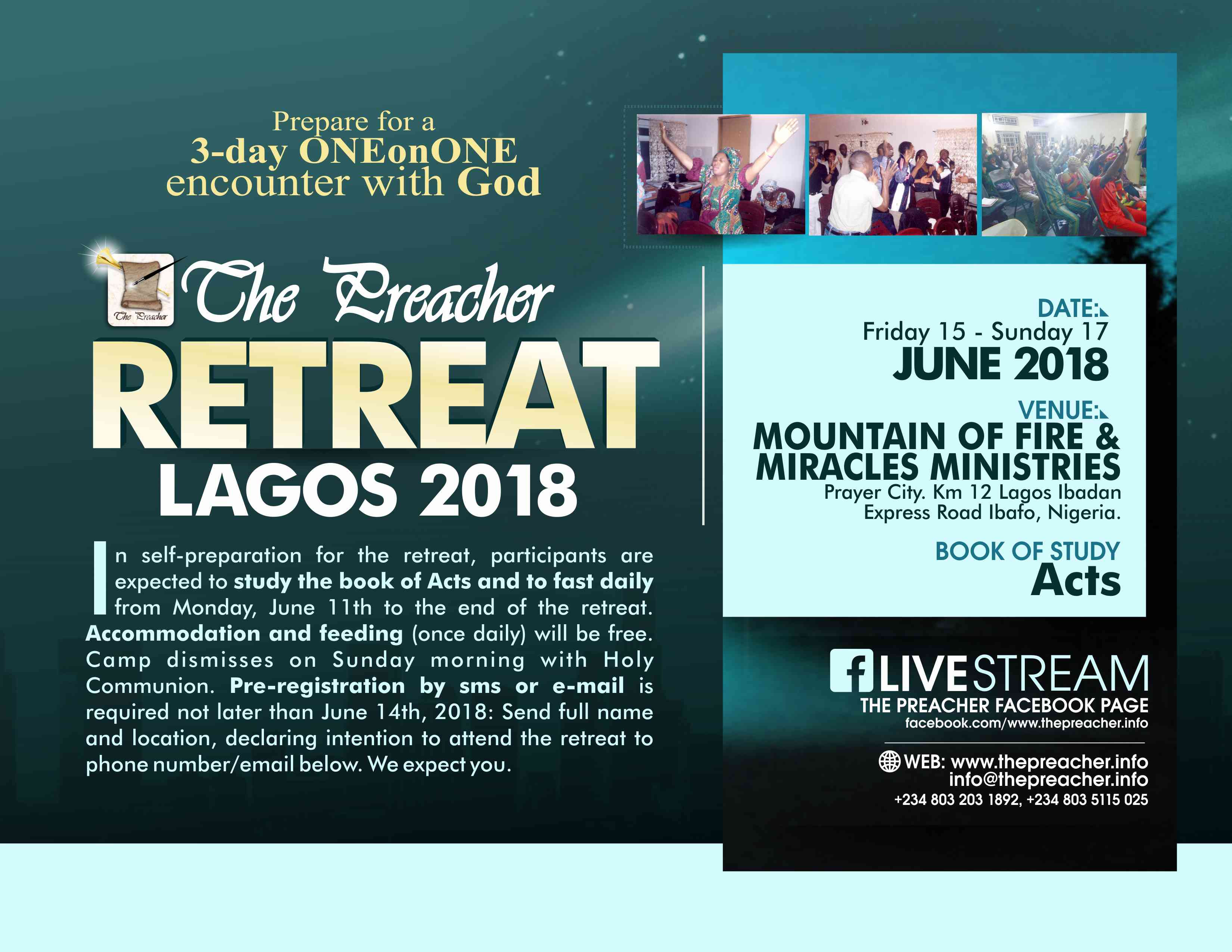 Comments
Comments